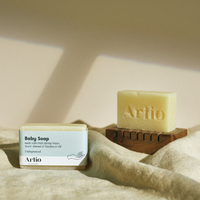 Handmade with Irish Spring Water, Sweet Almond & Starflower Oil on the North Coast of Ireland. An excellent choice for all skin conditions including those prone to cradle cap, nappy rash, teething rash, eczema, dry and harden skin patches, rosacea and psoriasis. Boasts 100% premium natural ingredients. 
Sodium Palmate (Sustainable Palm Oil), Sodium Palm Kernelate (Palm Kernel Oil), Sodium Olivate (Olive Oil), Glycerin, Sodium Sweetalmondate (Sweet Almond Oil), Aqua (Irish Spring Water), Sodium Avocadoate (Avocado Oil), Sodium Sunflowerseedate (Sunflower Oil), Sodium Borageate (Starflower Oil), Sodium Sheabutterate (Shea Butter), Tocopherol (Vitamin E).

Apply to damp skin, lather and rinse. To prolong life keep soap dry between uses in a well draining soap dish. Avoid getting into eyes.
Skin, hair and scalp are left hydrated, nourished and soothed.
Unfragranced.
Lasts approximately 3 months based on daily use.
Suitable to use from birth.
Does not contain sulphates, parabens or synthetics. Absolutely NO nasties.
Vegan and Cruelty-free.
Fully certified and GP approved.
100g